Leading Baltimore Conference Center
Here at New Psalmist Retreat, Meet & Connection Center (NPRMCC), we're ecstatic to provide patrons with a versatile Baltimore conference center. Our event venue can accommodate any kind of business or social gathering, and whether you need seating for 10 or 3,600, we've got a space for you. When you're hosting a crowd, we understand that it can be challenging to plan for and coordinate audio / visual equipment, security, valet parking, and catering. Unfortunately, larger convention centers may have the space that you need, but are unlikely to deliver the level of professionalism and personalized attention that NPRMCC delivers. For unbeatable service and amenities, book your event with NPRMCC today!
For a virtual tour of our site, we've included a quick look at each of our rooms and halls, as well as a list of events they can accommodate. You may also request an on-site tour. They are provided every Thursday from 11:00am to 4:00pm.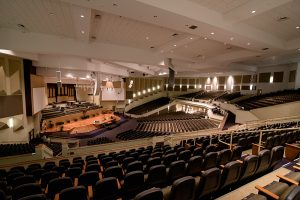 The Auditorium/Lecture Hall (Seats 3,600)
Our auditorium is our largest event space. Built to comfortably seat 3,600 people, our lecture hall is ideal for business presentations, performing arts, lectures, concerts, and other large-scale events. The auditorium here at NPRMCC is fully equipped with audio and visual equipment, as well as large projector screens for presentations and the like.

The Grand Ballroom (Seats 550)
Host an elegant reception here in the NPRMCC grand ballroom. This banquet hall features an open layout which can be organized to fit your specific needs. The ballroom is ideal for dances, parties, receptions, and luncheons, among other events. Take advantage of our audio/visual, catering, security, and valet services when you book an event at the NPRMCC grand ballroom and feel the full grandeur of this space!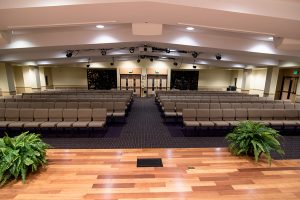 The Assembly Hall (Seats 270)
Smaller than our auditorium but no less elegant, our assembly hall is ideal for events with up to 270 attendees. Outfitted with comfortable seating, excellent lighting, and a stage, this event space is ideal for lectures, presentations, meetings, and the like. A large gathering, company meeting, or presentation will be no trouble in this well-sized conference hall.

The Music Hall (Seats 180)
Our music hall is specifically designed for acoustic performance, and comfortably seats up to 180 people. Host concerts, lectures, talks, and meetings here at our music hall. If you are looking for a space to hold acapela practices, instrumental recitals, or an intimate concert, this event hall is just what you need. We are happy to offer audio/visual services with this space upon request.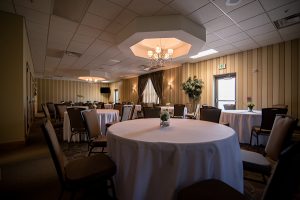 The Executive Dining Room (Seats 80)
Featuring a chandelier and plenty of space to host 80 individuals, our executive dining room provides an elegant space to host an event. Intimate luncheons and business meetings are perfectly executed in this dining room, which is sure to make all guests feel comfortable. Pair your venue rental with our catering services for an all-inclusive event treatment.
The Meeting Rooms (Seating 40-80)
Host meetings both large and small in our meeting rooms. We have several meeting rooms, each built to seat different amounts of people. Perfect for company retreats, these event spaces can be arranged for your group's specific needs. You can see images of each room.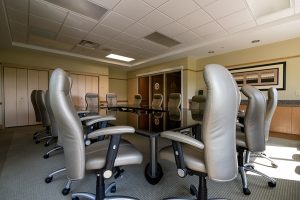 The Board Room (Seats 15)
Equipped with comfortable chairs, a widescreen TV, and an executive table, our board room is ideal for corporate meetings. Host your next business meeting with NPRMCC!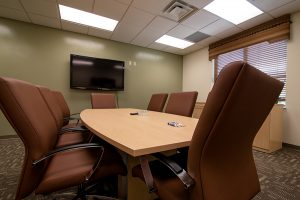 The Executive Conference Room (Seats 15)
Similar to our board room, our executive conference room also seats 15 guests and is equipped with a widescreen TV. If you and your team need to get away from the office, this meeting room will make for the perfect off-site meeting. Make corporate meetings comfortable with our executive conference room.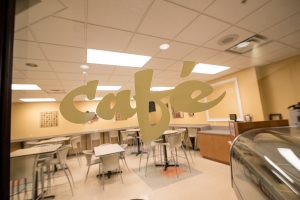 Other Amenities
Among our traditional event venues, we also offer a variety of other amenities for guests here at NPRMCC such as:
The Narthex Cafe (Seats 33)
Designed to cater to guests of your event, the Narthex Cafe provides snacks, drinks, and a comfortable place to hang out. Pull up a chair and grab a coffee!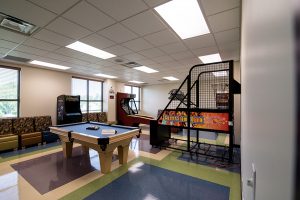 The Game Room Lounge (Seats 25)
Keep the kids (and some adults) occupied with our game room lounge. Fully equipped with a pool table, basketball, skeeball, and video games, there's plenty of fun to be had!
The Green Room/Bridal Suite
Prepare for your big day right here in the Green Room. Enjoy the privacy and the comfy sofas as you prepare for the ceremony.
The Lounge Area/Break Area
Take a break and lounge around in the comfy chairs and convenient tables of our lounge area.
The Outside Dining Area
Enjoy the weather out on the patio of our outdoor dining area. Equipped with a long table, patio chairs, and lounge chairs, our outside dining area is perfect for enjoying blue skies.
The Cyber Cafe
Jump on the internet here in our cyber cafe. Keep your guests connected to the world wide web during a convention or an event!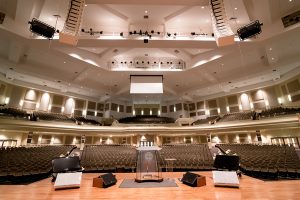 Ready to Book a Venue?
If you're ready to get started, request a proposal for one of our event spaces today. Also, if you have any questions surrounding the New Psalmist Retreat, Meet & Connection Center, don't hesitate to get in touch with us. You can reach a representative at 410-945-3000, or email us at info@nprmc.org.